-From Sunny A. DAVID: AWKA-
The Chairman of the National Peace Commitee, General Abdulsalami Abubakar has urged Candidates in the State Assembly elections to remain committed to ensuring peaceful conduct of the March 9 elections.
The Former Military Head of State made the call in Awka at a high level dialogue on Peaceful 2019 State Assembly election in Anambra State.
General Abubakar represented by a member of the committee, Mr. Duke Anoemuah restated the need for candidates of the different political parties engaged in the election to eschew violence and all forms of hate speeches and reiterated the need for them to properly advise their supporters to conduct themselves in a peaceful manner especially after the announcement of results.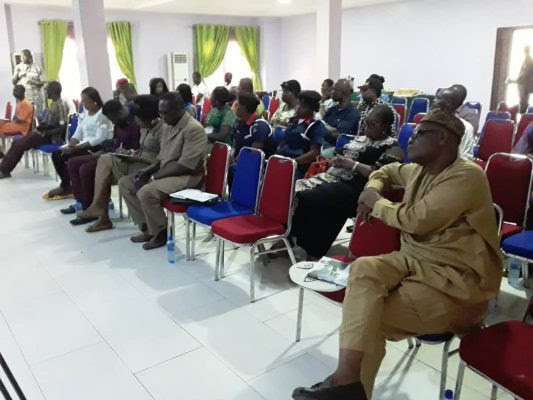 The Resident Electoral Commissioner INEC Anambra State, Dr Nkwachukwu Orji, who was represented by the Administrative Secretary in the Commission, Mr. Charles Mbanaja reviewed the performance of the Commission in the Presidential and National Assembly elections, and assured of their readiness for March 9 election.
He also spoke on the issues of delay in commencement of voting in some areas, malfunctioning of smart card readers and other issues that cropped up in the past elections.
Speaking on behalf of the Security agencies in Anambra State, the Commissioner of Police, Mr. Rabiu Ladodo, represented by the Police Public Relations Officer, Mr. Haruna Mohammed reassured on security preparations for the elections but sought for more public support in entrenching peace in the state before, during and after the election.
Other speakers at the event including the Obi of Onitsha, Igwe Nnaemeka Achebe represented by the traditional Prime Minister of the town, Chief Okey Ononye, the Anglican Bishop of Awka Diocese, Right Reverend Alex Ibezim, represented by Venerable Sam Okonkwo, all agreed on the import of peaceful elections to sustainable development.
In attendance at the high level peace dialogue were media practitioners, Civil Society groups and persons living with disabilities who highlighted many challenges facing the electoral process and suggested what should be done to ensure a more credible process.