-BY SUNNY A. DAVID / AWKA:
With less than sixteen days to the Presidential and National Assembly elections, the Independent National Electoral Commission, has restated commitment to partnering with Journalists in order to conduct credible elections that meet international standards.
The INEC National Commissioner in charge of Anambra, Enugu and Benue States and Chairman of INEC Information and Voter Education, Barrister Festus Okoye, restated this commitment while addressing senior media practitioners at the Sensitization Forum for Media organizations in South East and South South Zones of the country on the 2019 General Elections.
The forum which is part of the Commission's timeline of engaging critical stakeholders in the electoral process, was to address the challenges and other matters in the pre, during and post election periods.
Reiterating the commission's determination to deliver free, fair, and credible polls, the INEC National Commissioner, Barrister Okoye, enumerated the steps already taken by the commission in line with electoral provisions and the 1999 Constitution of the country.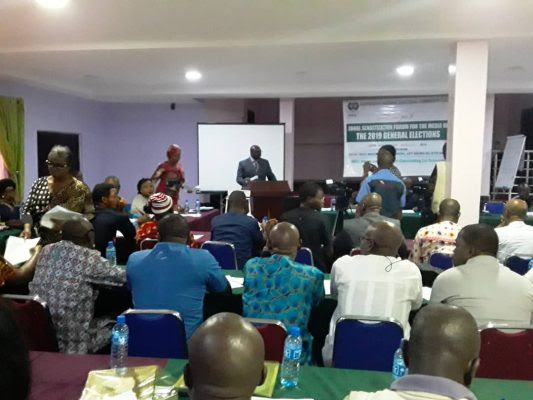 Barrister Okoye sought for collaboration of the media to deliver and meet international best practices while cautioning against illegal and unauthorized announcement or publication of results by media organizations or by their personnel.
Expanding on the roles of the media, the INEC Resident Electoral Commissioner in the State, Dr. Nkwachukwu Orji, represented by the Administrative Secretary of the Commission in the State, Mr. Charles Mbanaja, called on media practitioners to ensure they avoid being used to disseminate false news or propagate hate speeches.
The Deputy Director of INEC Information and Voter Education, Mr. Victor Aluko, also explained the Commission's provisions for people living with disabilities and other vulnerable groups to give them easy access to participate actively in the entire process.
Participants at the programme also made contributions on other matters affecting coverage of elections and proferred ways for better working relationships between the media, INEC, security agents and other stakeholders in the electoral process.
Meanwhile, the INEC National Commissioner, Barrister Okoye says Non sensitive materials for elections have been sent to the various local government INEC offices while sensitive materials are already being deposited at the Central Bank of Nigeria.